Frigoplast, since 1979
Company profile
Frigoplast S.A. is activated since 1979 but under the present legal status since 2000. The main activity of the company is the manufacturing of commercial - industrial refrigerator and air conditioning fittings, that is evaporators, condensers and other similar products.
Installations
In our 4000 m2 private installations, we operate with modern machinery, skilled personnel, certified materials. This combination supplies standardized equipment fitted to your needs.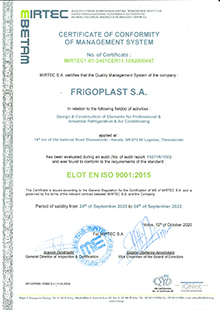 Quality control
After so many years in this field we have gained experience, state of the art equipment and our own laboratory for measuring and testing. We work in agreement with ELOT EN ISO 9001:2015.
Strengths
Products designed for maximum efficiency and economy
Made entirely of corrosion-resistant materials
Lightweight construction and dimensions
Ideal for all operating conditions
Ability to add resistance for defrosting devices
Strict quality control
Maximum efficiency & energy saving